The Blackfriars Mosaic was billed the world's 'finest mosaic tessellation' when it was discovered in the 19th century
Roman houses were built of stone, dried clay bricks, timber, or a combination of the three
Most floors would have been made of compacted earth but some houses contained concrete or mosaic tile floors
What did Roman Leicester look like?
Leicester's Roman inhabitants lived in a wide variety of houses, ranging from rows of small, simple rectangular buildings built along street fronts (with domestic rooms located behind shops or workshops) to larger, elaborate townhouses built around colonnaded courtyards.
Roman Townhouses
Roman houses were built of stone, dried clay bricks, timber, or a combination of the three. Poorer homes would have had thatched roofs, whilst other buildings used slate or tile. Most floors would have been made of compacted earth but in some houses more important rooms had concrete floors or were decorated with mosaic pavements. Walls and ceilings were rendered with plaster and painted with a variety of effects, including imitation marbling, geometric panels, architectural friezes, figures and foliage.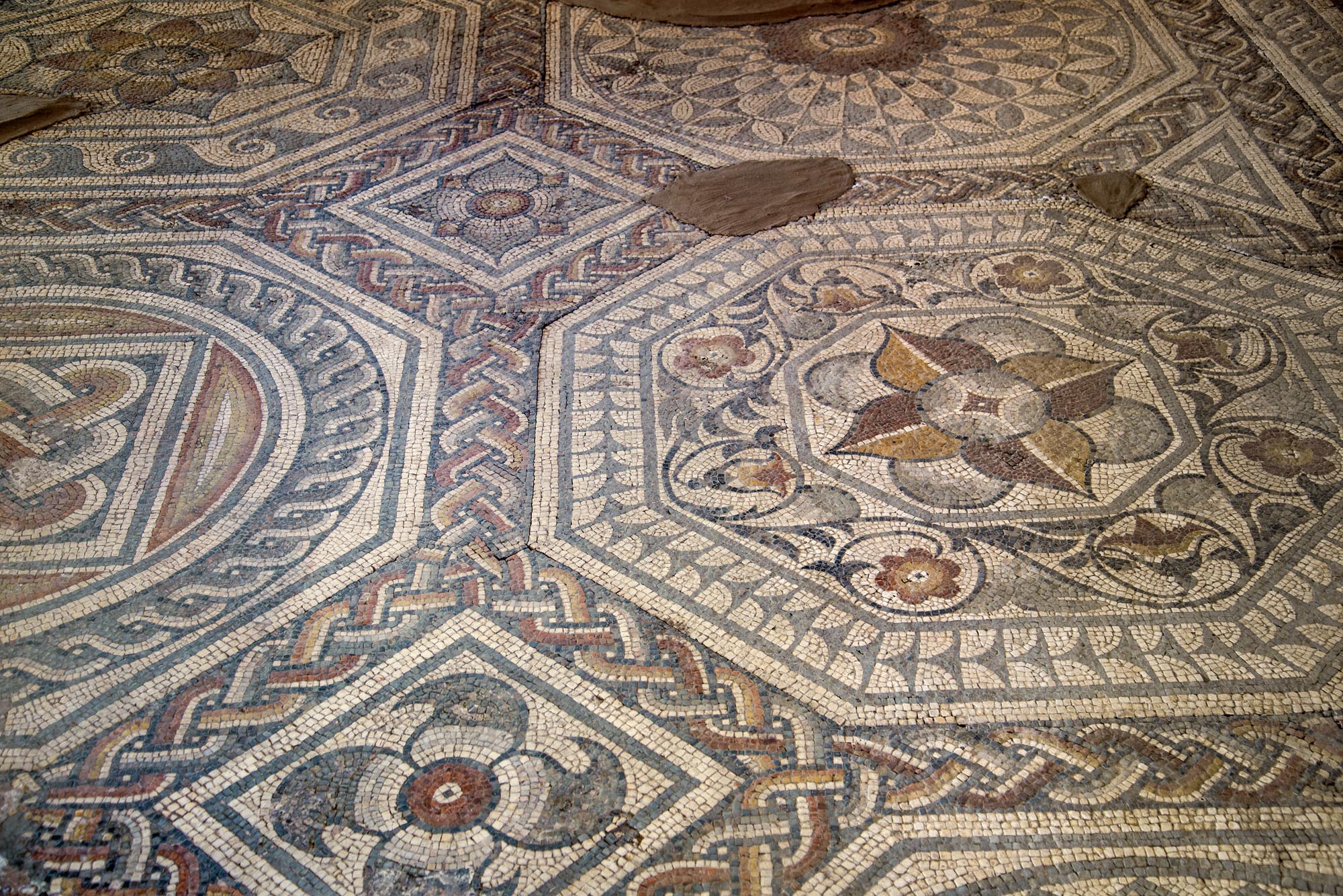 The finest mosaics in Roman Britain
The location of many of Leicester's Roman townhouses are known about because of the discovery over the last 300 years of dozens of mosaic pavements across the city. Some of these are amongst the finest in Britain, including the Peacock Mosaic found at St Nicholas Street in 1898 (now St Nicholas Circle), which features a magnificent peacock in its central panel; and the Blackfriars Mosaic found at Jewry Wall Street in 1832 (now beneath the viaduct of the former Great Central Railway Station), which has been described as the finest mosaic in Roman Britain because of its high quality craftsmanship and the sophistication of its geometric composition.
The Blue Boar Lane townhouse
The opulence of some of Leicester's townhouses was apparent during an excavation at Blue Boar Lane in the 1950s (today beneath Vaughan Way and the Travelodge on Highcross Street). Archaeologists discovered parts of a large, remarkably well-preserved house. This was built in the early 2nd century AD and was occupied for around 40 years before it was demolished to make way for the macellum (market hall).
Two ranges of rooms, floored with concrete or mosaic pavements, were found opening on to a colonnaded courtyard. Clay-brick walls survived to nearly a metre in height above the floor and were still decorated with painted plaster adorned with elaborate architectural and figurative schemes.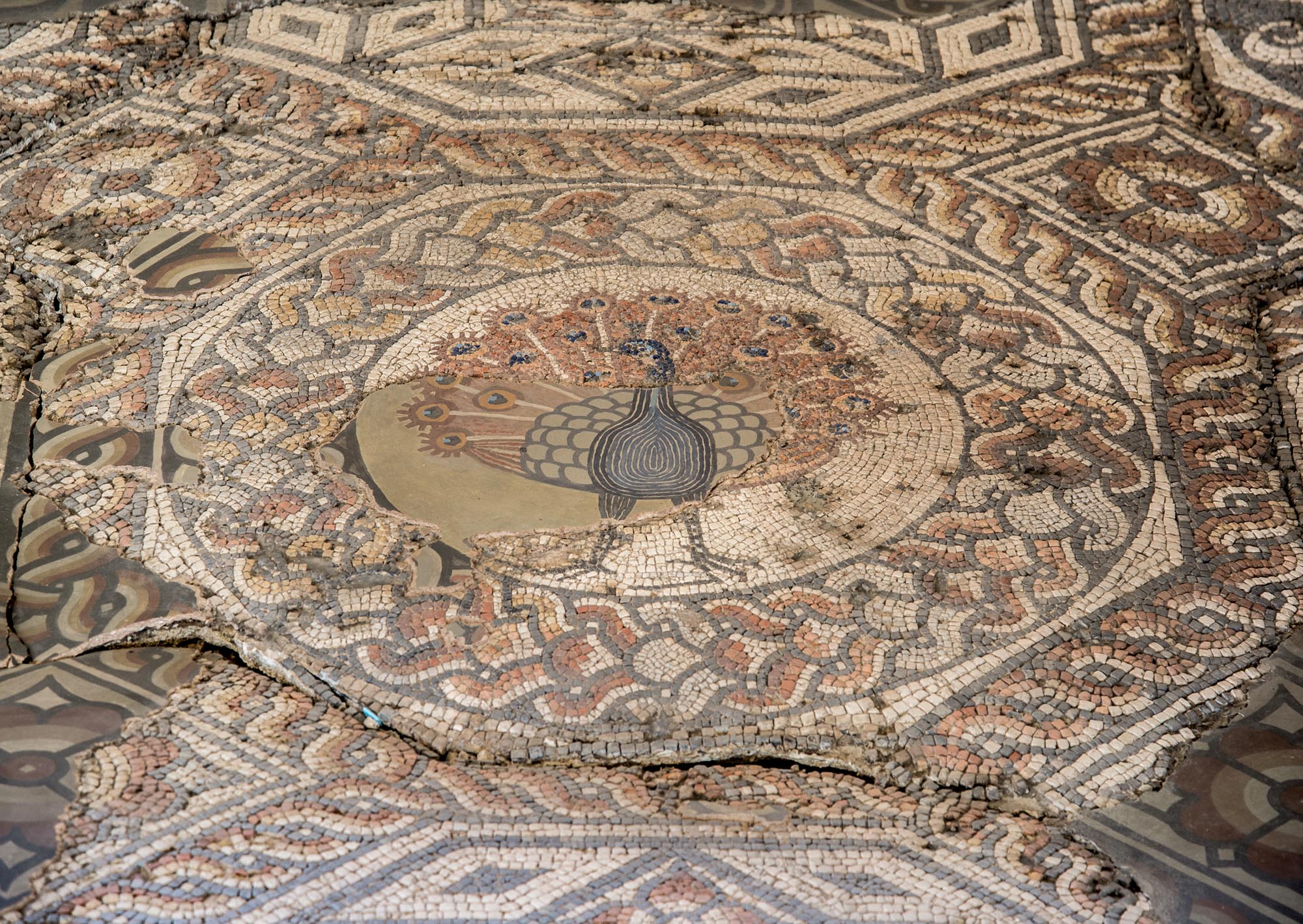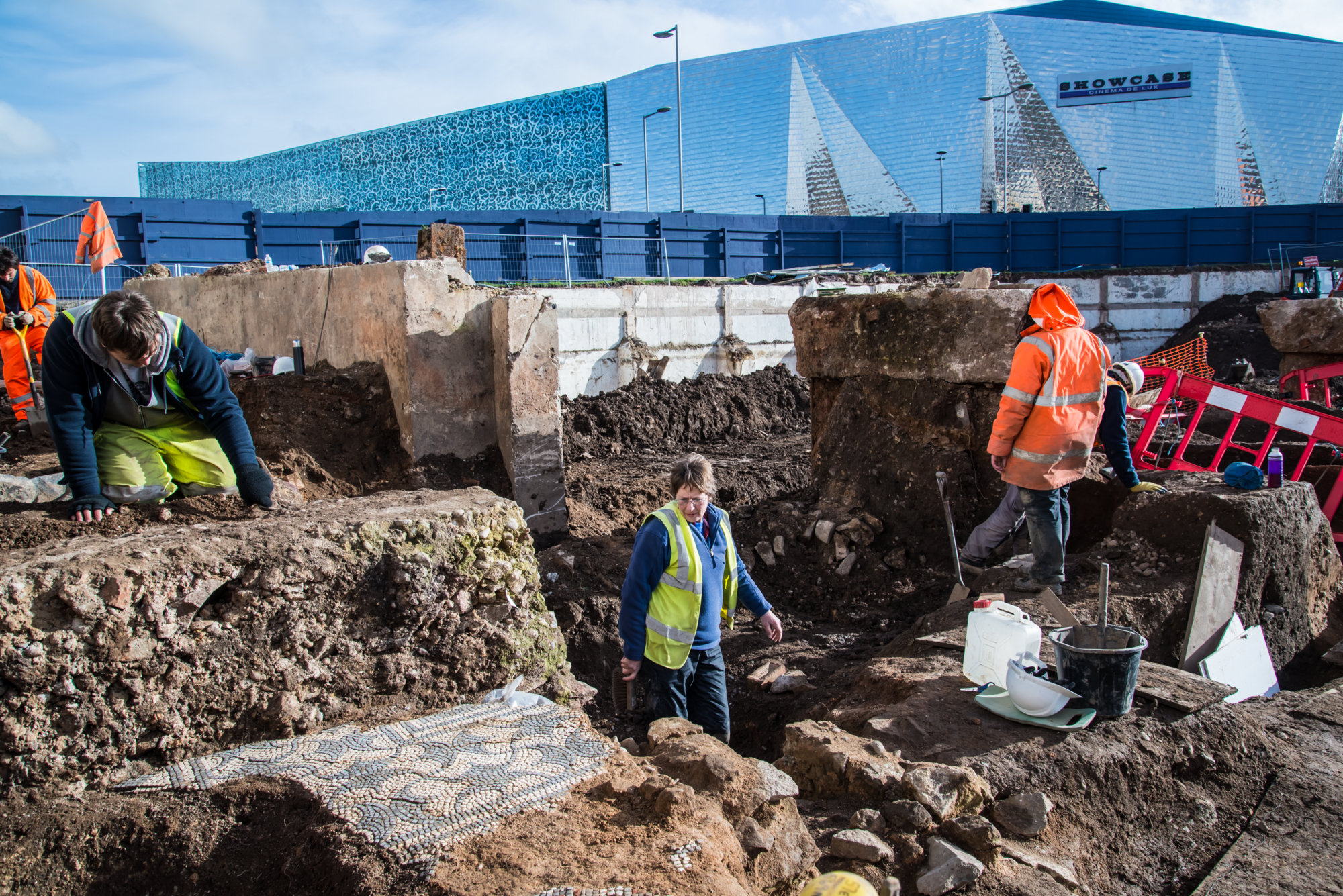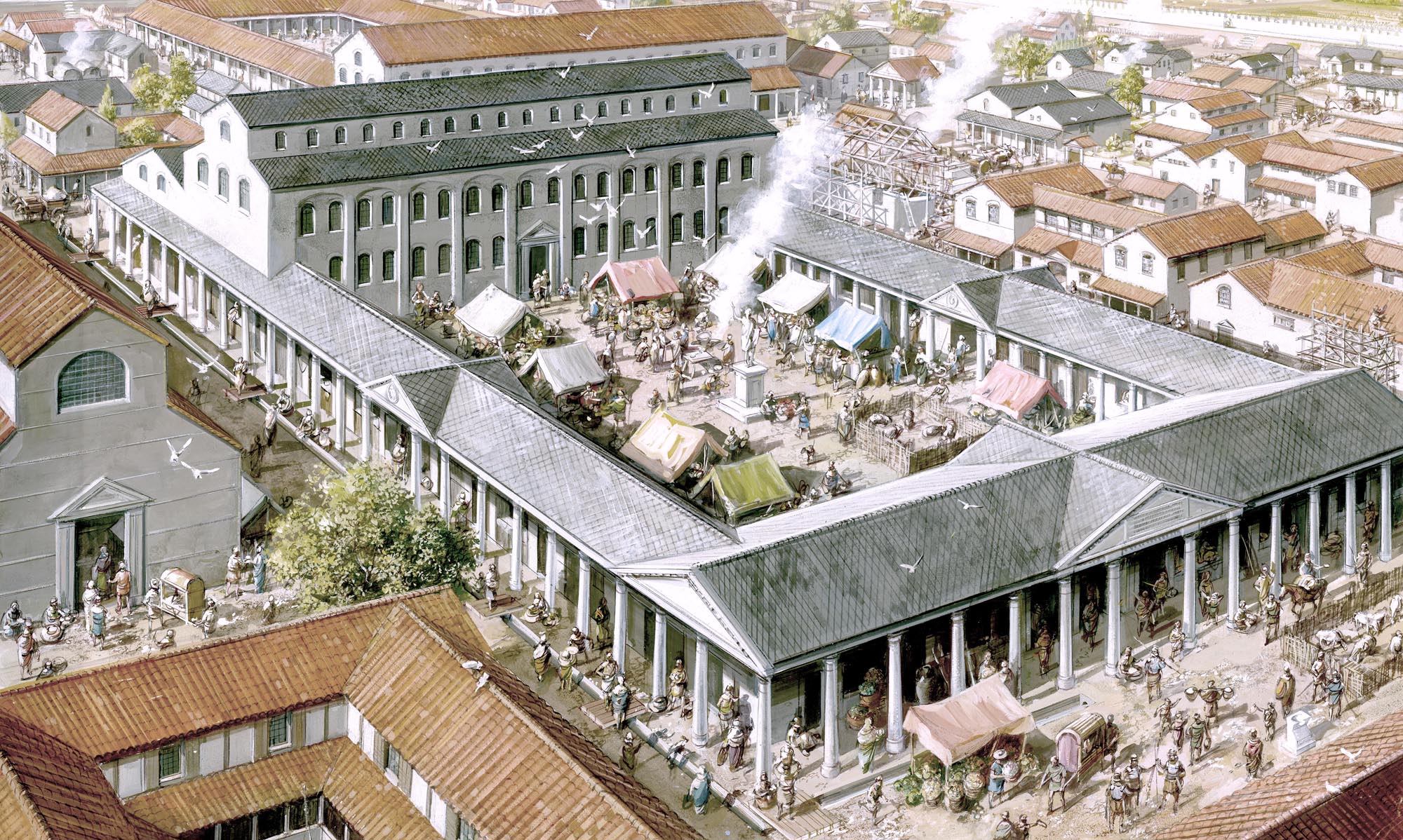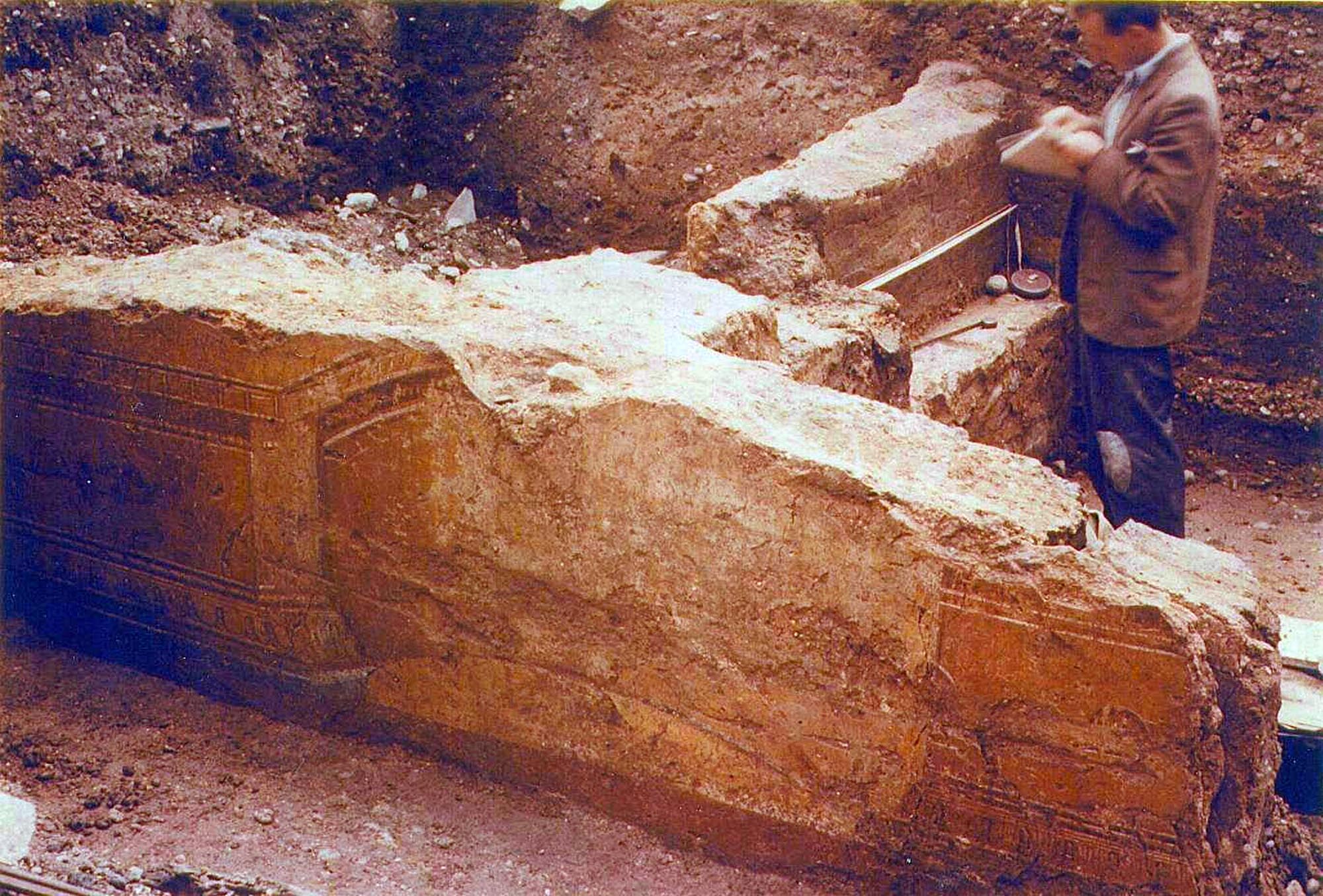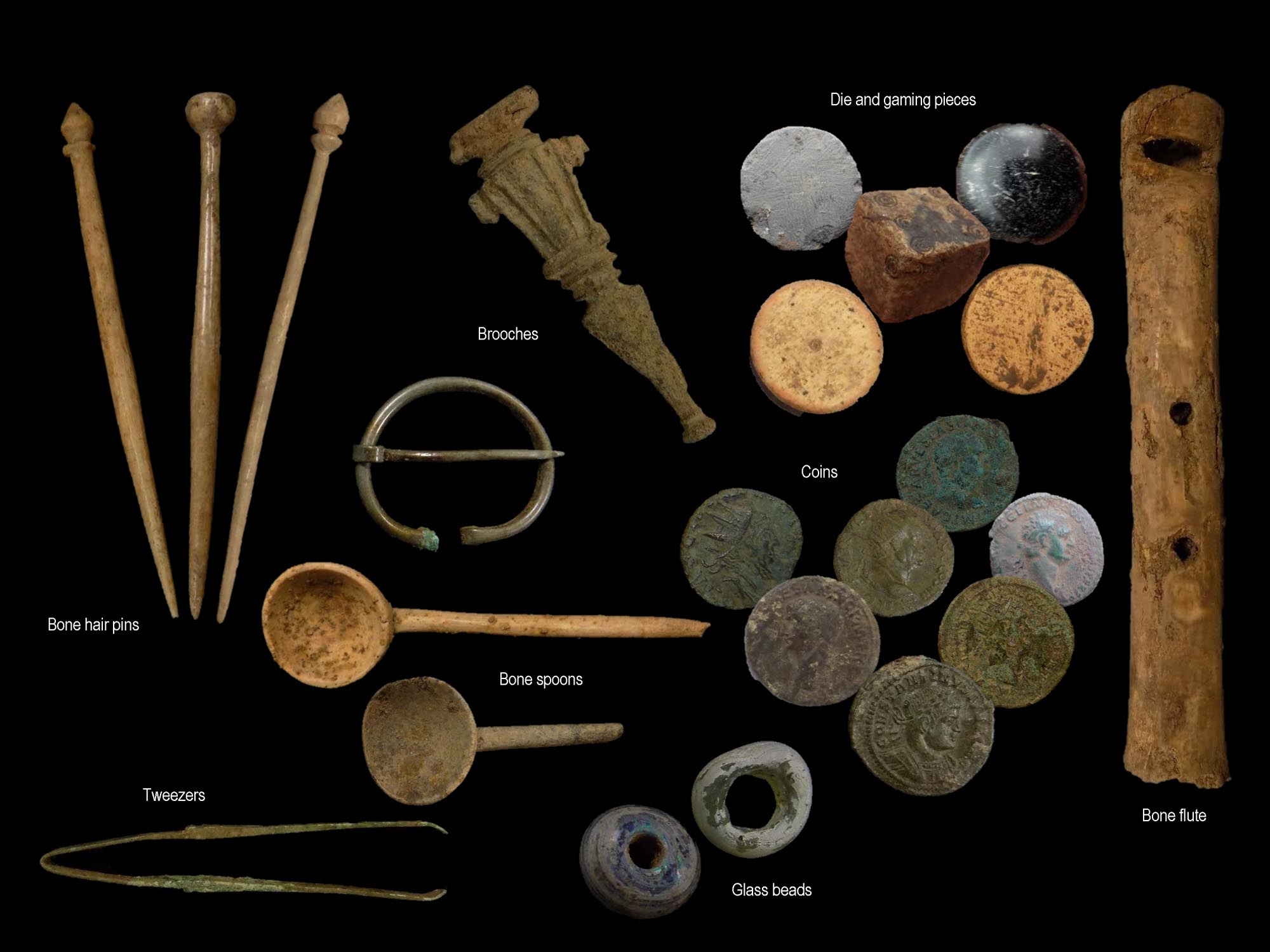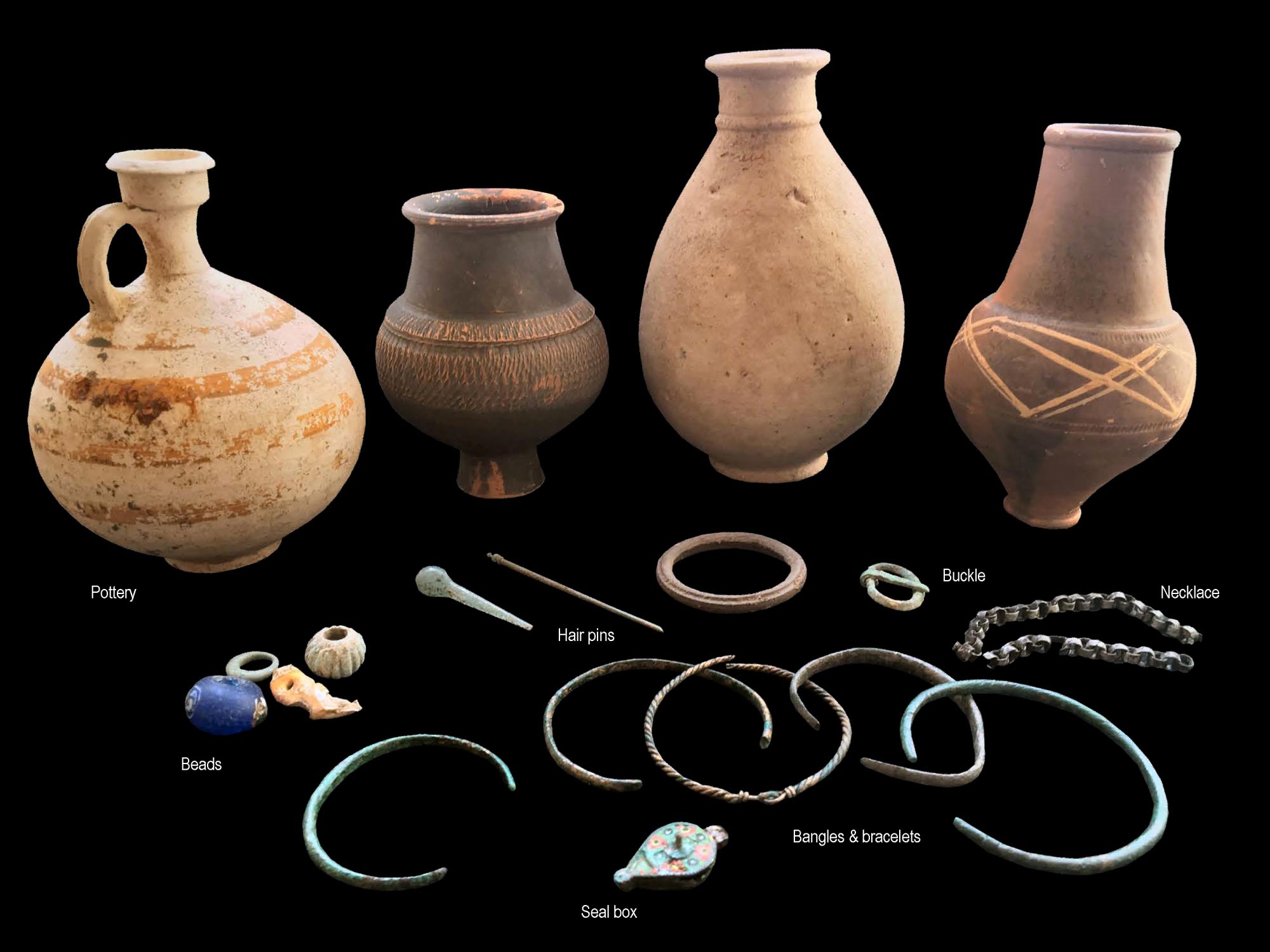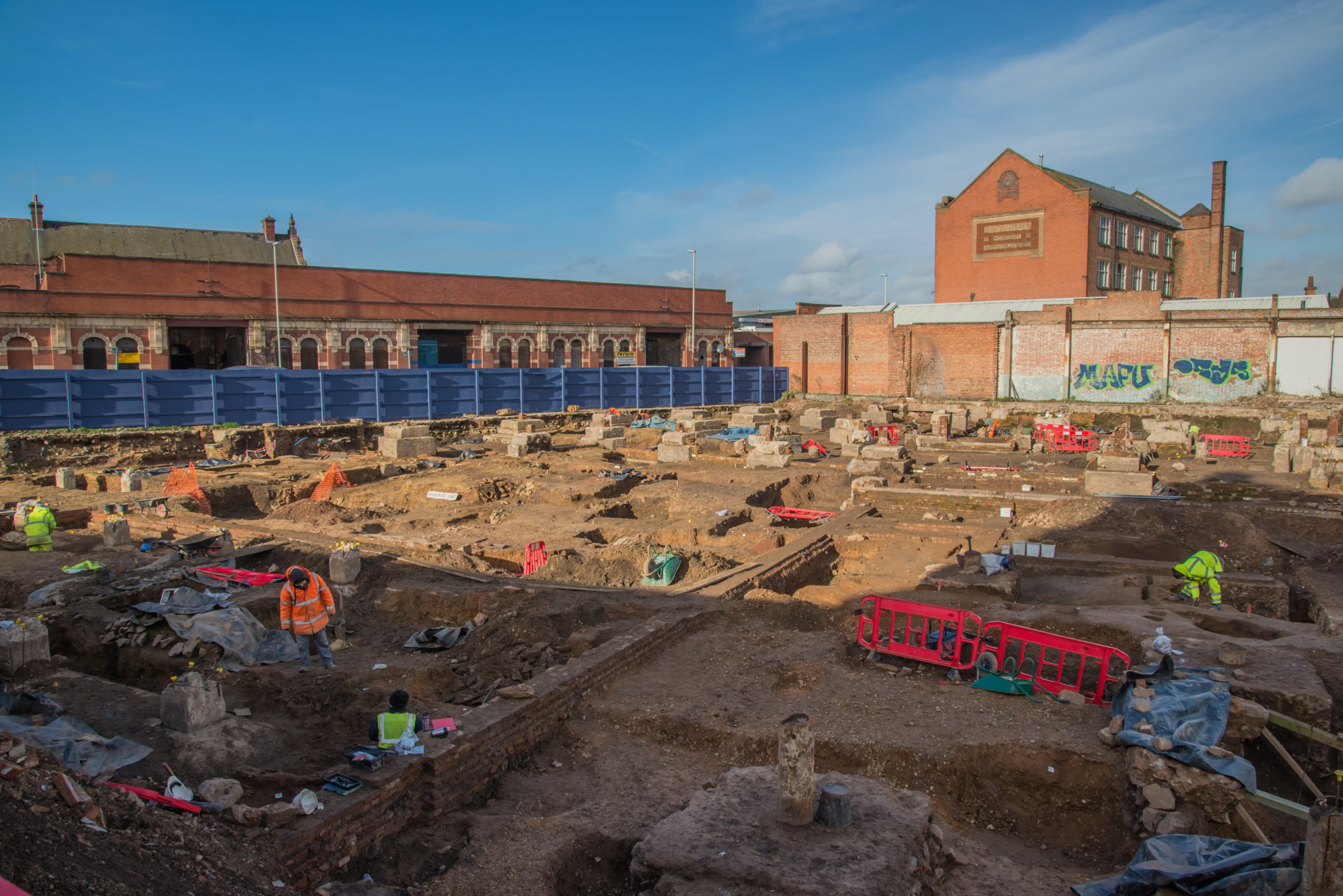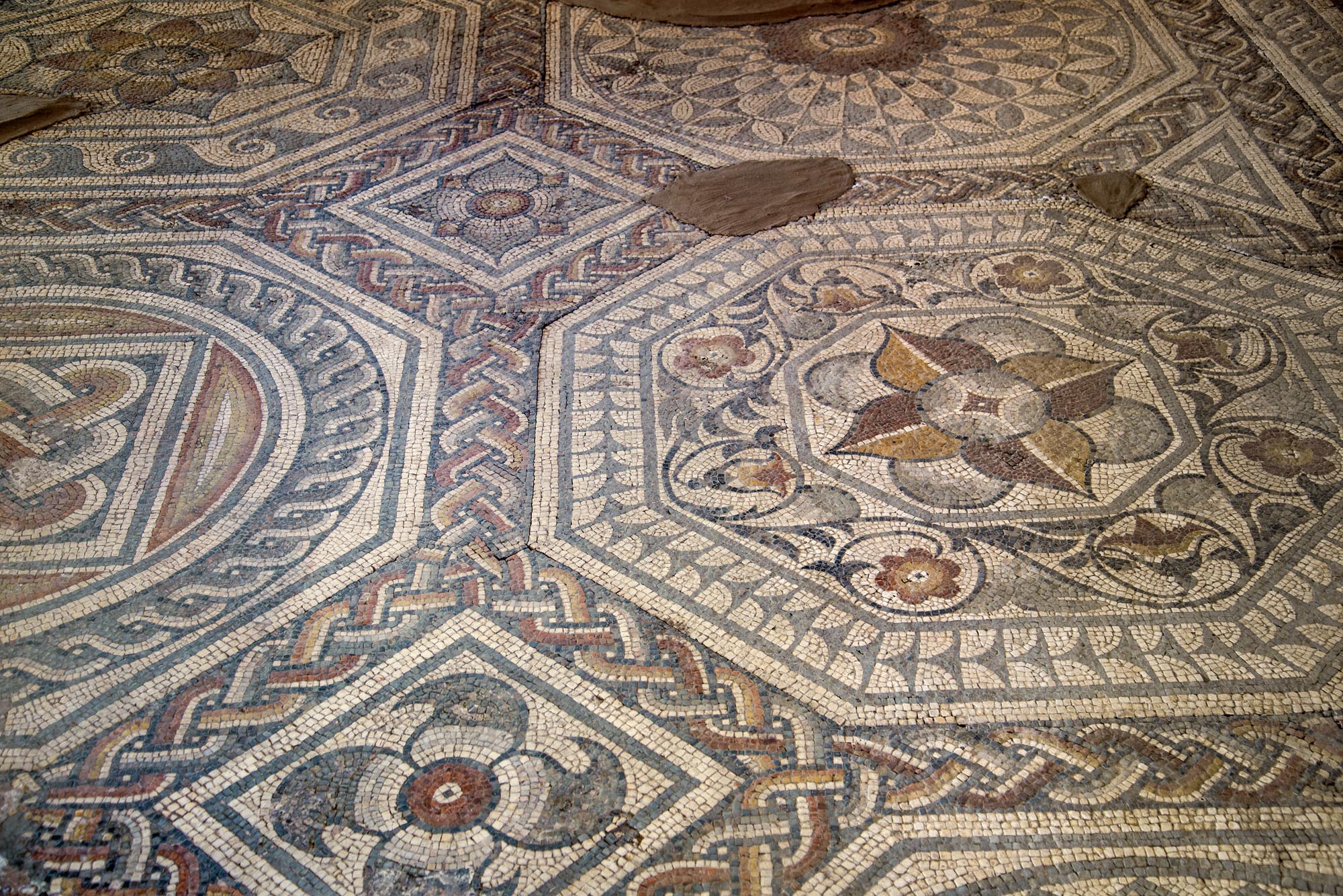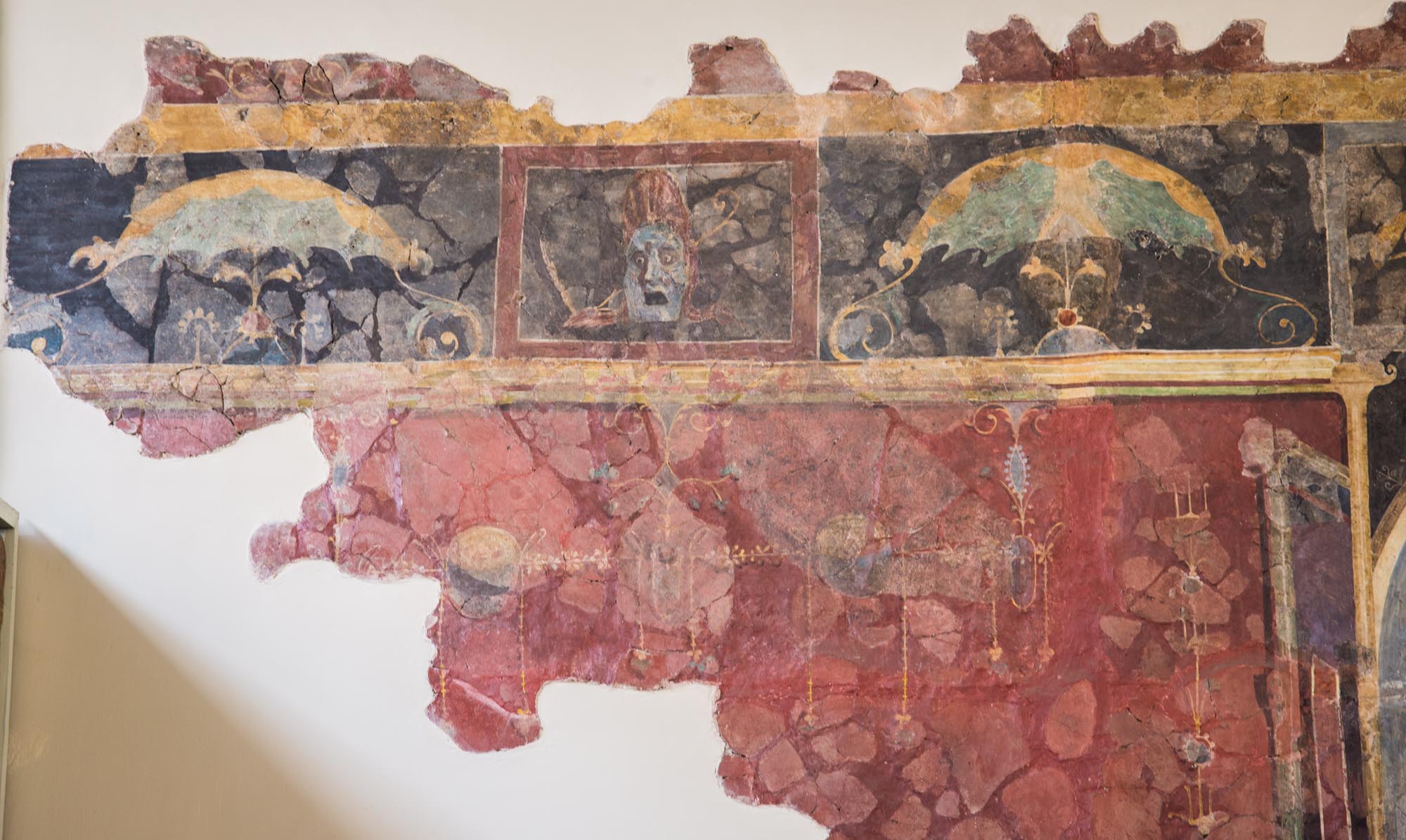 Continue the story of
The Romans in Leicester
Roman Leicester
(47- 500) A military fort was erected, attracting traders and a growing civilian community to Leicester (known as Ratae Corieltauvorum to the Romans). The town steadily grew throughout the reign of the Romans.
Medieval Leicester
(500 – 1500) The early years of this period was one of unrest with Saxon, Danes and Norman invaders having their influences over the town. Later, of course, came Richard III and the final battle of the Wars of the Roses was fought on Leicester's doorstep.
Tudor & Stuart Leicester
(1500 – 1700) The wool trade flourished in Leicester with one local, a former mayor named William Wigston, making his fortune. During the English Civil War a bloody battle was fought as the forces of King Charles I laid siege to the town.
Georgian Leicester
(1700 – 1837) The knitting industry had really stared to take hold and Leicester was fast becoming the main centre of hosiery manufacture in Britain. This new prosperity was reflected throughout the town with broader, paved streets lined with elegant brick buildings and genteel residences.
Victorian Leicester
(1837 – 1901) The industrial revolution had a huge effect on Leicester resulting in the population growing from 40,000 to 212,000 during this period. Many of Leicester's most iconic buildings were erected during this time as wealthy Victorians made their mark on the town.
Edwardian Leicester
(1901 – 1910) Electric trams came to the streets of Leicester and increased literacy among the citizens led to many becoming politicised. The famous 1905 'March of the Unemployed to London' left from Leicester market when 30,000 people came to witness the historic event.
Early 20th Century Leicester
(1910 – 1973) The diverse industrial base meant Leicester was able to cope with the economic challenges of the 1920s and 1930s. New light engineering businesses, such as typewriter and scientific instrument making, complemented the more traditional industries of hosiery and footwear manufacturing.
Modern Leicester
(1973 – present day) Industry was still thriving in the city during the 1970s, with the work opportunities attracting many immigrants from all over the world. While industry has declined in recent years, excellent transport links have made Leicester an attractive centre for many businesses. The City now has much to be proud of including its sporting achievements and the richness of its cultural heritage and diversity.
Change time period...
Roman Leicester
Medieval Leicester
Tudor & Stuart Leicester
Georgian Leicester
Victorian Leicester
Edwardian Leicester
Early 20th Century Leicester
Modern Leicester

Your ultimate guide to visiting the city